Bank, bank, bank, bistro.
The busy Bay Street business people are lucky to work near one of the Festival of Chefs participating restaurants,
reds bistro
, run by Executive Chef Mike Steh. We, Breemer and O-reagano, ventured into the financial district to feast upon the fine food served at reds. Seated on the second level in amongst a plethora of suits, we were treated to a lovely view and, while they sat inside sipping sparkling wine, we observed the hustle and bustle of Adelaide below.

The ambiance was warm and, though it was full with the hungry lunch crowd, it wasn't noisy. But we were there for the food, not the atmosphere, so we buried our heads in the menu to see all there was to offer. After agonizing over many delicious-sounding decision, we chose (with the help of our very friendly server Michael) an appetizer of smoked salmon tartar, which came with minced capers, shallots and hens egg and a dollop of buttermilk crème fra
î
che. It was lovely!
Up close and personal with smoked salmon tartar
Next up was a board of charcuterie including Tuscana salami, duck prosciutto, fruit mustarda, in-house preserves, brioche toast and a fois gras and chicken liver parfait that was melt-in-your-mouth light and creamy yet at the same time packed with flavour. On the side was a bowl of preserves, all of which were made in-house.

All the choices on the charcuterie

A
practically perfect parfait
For her main attraction, O-reagano opted for the grilled Berkshire pork loin with chipotle and rhubarb BBQ sauce, braised swiss chard, garlic and provolone polenta.
Breemer devoured 6 ounces of tri tip sirloin from Cumbrae Farms, which was served with crisp Yukon gold frites, sautéed mushrooms, and red wine jus. The flavour was phenomenal, this could have been because the beef had been dry aged for five to six weeks.

Lovely looking loins
Because this is the place to go to have some wine and cheese in Toronto, there was no way we would leave without tasting some of what they had to offer. It was tough to choose from the large selection, but eventually we narrowed it down to three different cheeses that came with delectable poached walnuts (also made in-house): Paulhaus was a semi-ripe goat's milk from Portugal, quite mild and buttery; Roaring Forties, an Australian cow's milk blue veined cheese that went superbly with the Cave Springs ice wine (this one took O-reagano's tastebuds on a stroll down flavour-memory lane as this was the first cheese she ever blogged about); hands down the highlight had to be the Testun Di Barolo, a sheep's milk from Italy that came with pressed grape skin exterior. We fell in cheese love with the last cheese in all its purple glory.
Trio of choice cheeses
Simply squisito!
Miraculously, we still had room for not one, but two desserts AND a glass of Biceron, an Italian chocolate liquer which was so thick you almost had to chew.
At first we were going to go with just the season crème brulee. This was an espresso crème brulee with in-house poached cherries. Like the parfait (in texture, not flavour), the dessert simply melted in your mouth, soft and creamy, perfectly accented by the sweet, tart cherries.
But that was not the end, oh no, there was still more. Our charming server couldn't let us leave without trying his favourite dessert: peanut butter mousse with caramelized bananas and banana gelato. It was everything you always wanted a peanut butter cup to be, but wasn't.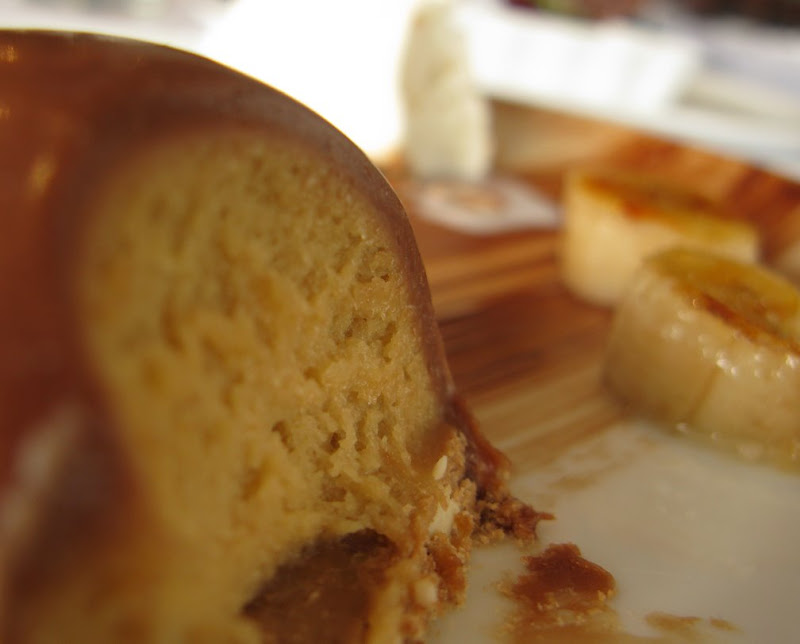 Peanut butter like you've never had it befor
e
Eventually, we rolled our full selves out of the restaurant, grinning from ear-to-ear as wereflected on the epicurean experience they just thoroughly enjoyed.