An impromptu and quite healthy dinner ala Cheese Boutique:
Salmon fillet with a honey garlic tamari glaze, on a nest of soba noodles, jerusalem artichokes, shallots, and wilted pea sprouts. These sprouts are tasty, cheap, and stay fresh for a long time.
Organic Living Pea Sprouts...
Honey, garlic, and tamari for the salmon....
Soba (
buckwheat
) noodles...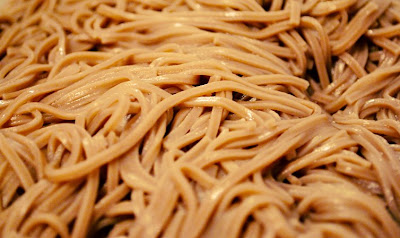 The final result:
The salmon is baked in the glaze at 375 F for about half an hour depending on thickness... it should be caramelized on the outside and remain moist and tender on the inside.
The Jerusalem artichokes, also called sunchokes, add such a lovely crisp texture and nutty flavour. I peeled them, cut them into fat strips and briefly sauteed them with the shallots.
I cut some of the sprouts from their forest and threw them in the still-hot pan with a sprinkle of water to steam for about a minute.
All that was tossed with the noodles and everything was given a drizzle of lemon juice. I also used some flax oil and salt and pepper, but it could be seasoned in a variety of ways of course.
Completely delicious as well as being vegetarian (well, for the kind that eat fish) and gluten-free.
Star Ingredients (from Cheese B except for the fish):
Fresh Salmon fillet
Rolana 100% Organic Buckwheat Soba Noodles
Slegers Premium Organic living pea sprouts
Jerusalem artichokes
Shallots